This is nothing to laugh about, but the Washington Wizards Dwight Howard is out for 4th straight game.
Read on to get the latest on Washington Wizards Dwight Howard…
CelebNSports247.com reports that the Wizards are 7-12 in their first 19 games of the 2018-2019 season.
Meanwhile, Dwight Howard has only dressed for nine of them after signing with the team, but he's been out for four straight games.
Howard was said to have gluteal soreness, but the Wizards haven't offered up any details whether he's making progress or not.
Gluteal soreness is basically buttock pain which can be caused by trouble controlling your bowels or bladder, bruising, and/or numbness or weakness in your leg.
Since the news broke that Dwight Howard has been smashing or getting smashed by a Transgender woman by the name of Masin Elije.
The only thing that has been released is the nagging and constant butt injury that he has been dealing with since before the season began.
The timing of his injury happens to line up with the Transgender woman scandal that has been reported he's trying to keep quiet.
A Rockets insider posted this on Twitter:
Dwight Howard is QUESTIONABLE (gluteal soreness) for the #Wizards tonight.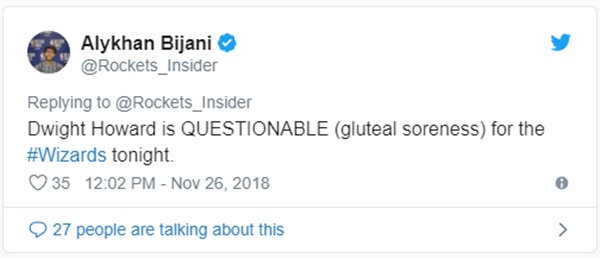 Thoughts?
It looks like LiAngelo Ball and Dwight have something in common when it comes to sex partners.