This week, Antonio Brown shocked everybody with a sudden change in his behavior when he posted an apology on Instagram and Twitter to Robert Kraft and the Patriots organization.
Now, that Antonio Brown has conducted himself in a professional and respectable manner, Patriot fans want him back on the team. Read on…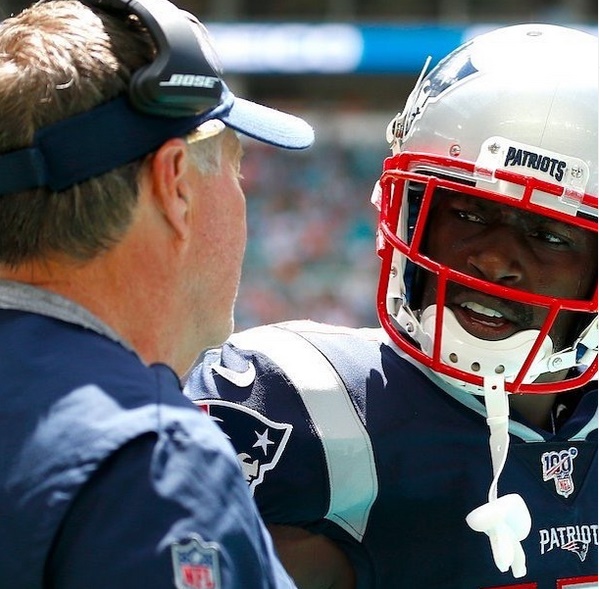 CelebNSports247.com reports that New England Patriots fans are wanting the team to re-sign Antonio Brown.
The Patriots are doing just fine without him at 9-19, but the offense is not the well-oiled machine that they used to be without having Rob Gronkowski in the line-up.
First AB blamed the NFL.  Next, Brown wanted to be signed to the Ravens, and then Antonio fell victim to cancel culture and now he's back.
Last month when a petition popped up from Patriots fans but since the apology from AB it's really been getting lots of traction.
The petition is well over 11.5k signatures and it looks like it should be over 15k in the next few hours.
It is clear to Patriots Nation that Tom Brady was excited to have him and upset when he was released. The offense has struggled at times and the 42 year old greatest qb of all time needs a receiver of Brown's caliber to take the offense to a level we haven't seen since 2007. Along with that historic defense, there is no telling what this team will be able to accomplish this season.

Antonio Brown was signed by the Patriots for a $1 Million salary with a $9 Million sign on bonus. It is evident that Brown will likely win his grievance with the Patriots over that bonus which means the Patriots suffer a $9 Million cap hit this year.

Antonio Brown should publicly apologize for his tweet about Mr Kraft. AB also needs to make sure all future actions and social media posts adhere to professional standards ie "The Patriots Way."

Mr. Kraft should allow Bill Belichick to bring him back on a conditional basis. Whatever Coach Belichick and the organization requires in the new deal to feel comfortable allowing him to return to practice and represent the Patriots, those conditions need to be strictly adhered to by Antonio Brown.

We as fans want to see Antonio Brown back on the team and witness the Patriots go 19-0 to make up for the great injustice that occurred at the end of the 07 season.
Thoughts?