Browns Coach Kitchens Address Ryan Lindley + Jarvis Landry Sideline Yelling Match!
Head Coach Freddie Kitchens addressed the media on December 2, 2019, to discuss the 20-13 loss versus the Pittsburgh Steelers. Read on to see how Kitchens downplays Ryan Lindley + Jarvis Landry Sideline Yelling Match…
Jarvis is usually pretty animated on the sideline, but looking at these pictures this appears to be a little bit more than the usual "talking it out". That's QB coach Ryan Lindley.#Browns pic.twitter.com/qlAYXEnCG3

— CLE Sports Masochist ? (@CLEuntilIdie) December 1, 2019
CelebNSports247.com reports that things did not go as planned for the Cleveland Browns during their latest visit to Heinz Field, losing to a depleted Pittsburgh Steelers team 20-13.
As the offense sputtered in the second half and the game was sealed on a late Baker Mayfield interception, Browns star wide receiver Jarvis Landry, who Odell Beckham Jr. looks up to, and quarterbacks coach Ryan Lindley got into a yelling match.
Things looked extremely heated between the Browns star wide receiver Jarvis Landry quarterbacks coach Ryan Lindley on the sideline.
And it just escalated when linebacker Christian Kirksey stepped between Landry and Lindley.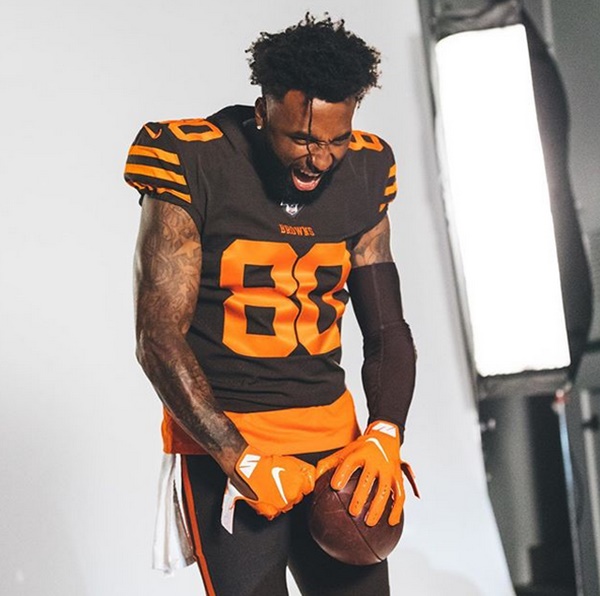 The Browns head coach Freddie Kitchens tried to play the who incident down when addressing the press trying to keep matters a private in-house issue.
Kitchens said:
I think this is an emotional game, and Jarvis is an emotional player. We like to coach with emotion and passion. I do not think that is a big deal. I think that is part of the game. Our guys put a lot into this game so anytime you see it not happening or unfolding the way you want it to unfold, of course, there is going to be passion and stuff that is exuded out. That is understandable. That is what makes Jarvis such a special player.
Watch how he plays it low key:
This is NOT the first time Jarvis got in a fight, let's no forget Landry and Terrance Mitchell got into it during training camp.