Alabama's Tua Tagovailoa admits he might never be the same after hip injury!
This is NOT good news, but here is what Alabama quarterback Tua Tagovailoa had to say about his hip injury. Read on…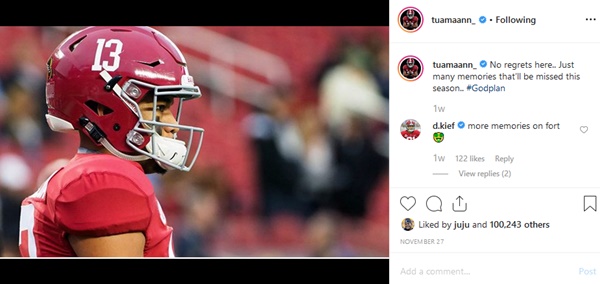 CelebNSports247.com has learned that Alabama quarterback Tua Tagovailoa has a huge decision to make for his future in the coming weeks.
According to Tua Tagovailoa will now have to decide if he'll take his talents to the NFL.
He is unsure that he'll have the same skillset after the devastating hip injury he suffered last month.
Tagovailoa said:
I don't think I'd be the same again because there's like metal in here, you know?
He added:
I lose some rotation inward, so I won't be able to twist as much inward and whatnot. I wouldn't need that as much. When you're running, you're almost always opening up your hip. From what the doctors say, they expect a full recovery and I'll be able to go out there and play football again at 100 percent, it's just I won't be able to rotate it internally the same way.
Tagovailoa suffered a dislocated right hip Nov. 16 against Mississippi State. Since having surgery, Tagovailoa's prognosis has been categorized as "excellent."
His hip surgery was the second injury that was a season-ending injury this year. But Tua was also dealing with an ankle injury that required a tight-rope surgery. He has now had two surgeries and it has caused him to think about his future as a quarterback.
#StayStrong Tua