Odell Beckham Jr. Sets Record Straight with Media
We stand correct by Odell Beckham Jr. regarding his future with the Cleveland Browns. Read on…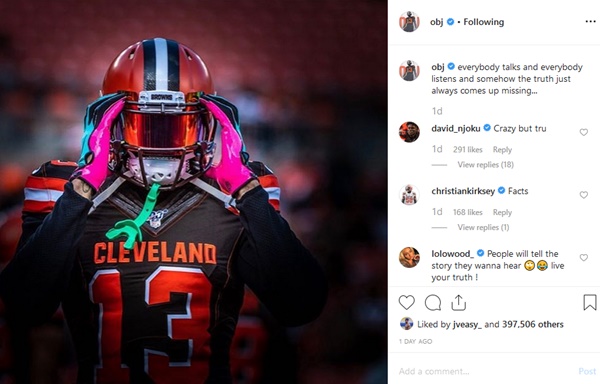 CelebnSports247.com has word that previous reports regarding Odell Beckham Jr. "wants out of Cleveland" were taken out of context.
The Cleveland Browns wide receiver made a few vague comments regarding his future with the Cleveland Browns on Thursday. And on Friday he is correcting any misunderstanding.
Odell Beckham Jr. addressed the chatter surrounding him head-on.
OBJ said:
I never said I was not happy in Cleveland, just like everyone else I'm hopeful for better results. Next story.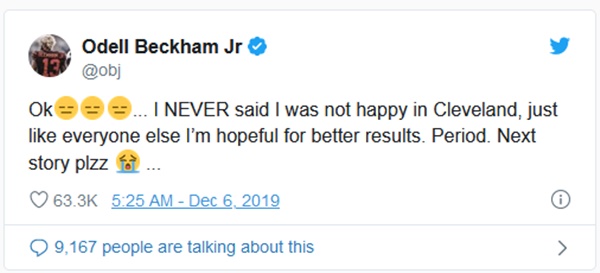 The Browns came into the 2019 season with high expectations and they currently sit at 5-7, third in the AFC North. Plus, Beckham's catches are down and he has just two touchdowns.
Beckham told reporters on Thursday:
I couldn't tell you what's going to happen. I mean, I am here. I couldn't sit here and tell you whether I am going to be here, want to be here, don't want to be here. This is exactly where I am now and I wouldn't rather be anywhere else. So, it's something that, as I say, God has a plan and in the off-season, everything will figure itself out.
Odell, who is under contract through 2023, also has gone six consecutive games without topping 100 receiving yards for the first time in his career. We don't see him leaving the Browns anytime soon.