Colin Kaepernick can smile big because he just had a HUGE victory when it comes to the NFL in hopes of a dismissal.
Instead, Colin Kaepernick has won the summary judgment phase of his collusion case, which means the case is moving toward a hearing. This is a Huge blow to the #NFL. Read on for more deets…
CelebNSports247.com has learned that arbitrator Stephen Burbank has refused dismissal of Colin Kaepernick collusion case!
Burbank's statement said this in favor of Colin Kaepernick:
On August 28, 2018, the System Arbitrator denied the NFL's request that he dismiss Colin Kaepernick's complaint alleging that his inability to secure a player contract since becoming a free agent in March 2017 has been due to an agreement among team owners and the NFL that violates Article 17, Section 1 of the collective bargaining agreement between the NFL and the NFLPA.
What is so awesome about this news is that further discovery is expected. This means that Kaepernick and his attorney Mark Geragos will have more opportunities to gather information about any dealings inside the league that left to Kaepernick being kept out.
Charles Robinson posted this on Colin Kaepernick's victory: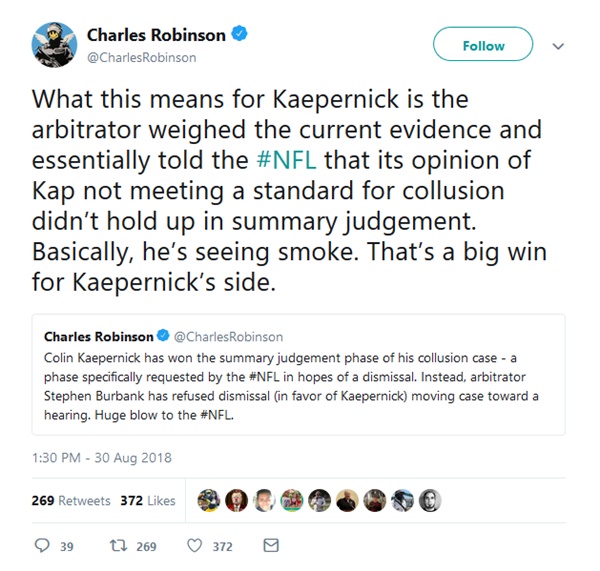 If things continue to go in favor of Kaep, maybe justice will get served and the NFL will be fined. Does this mean the former NFL quarterback will land on a pile of money?
We can't say, but he might land on a new team, which is only fair because they've discriminated even though they continue to deny it.