On Sunday, the Twitter account MMA Team Dagestan listed off a number of the fighters expected to compete at UFC 242.
This Tweet generated a response from Conor McGregor, who reminded that several fighters on that list have tested positive for performance-enhancing drugs in the past. Read on to see why Conor McGregor Deletes Khabib Training Tweet …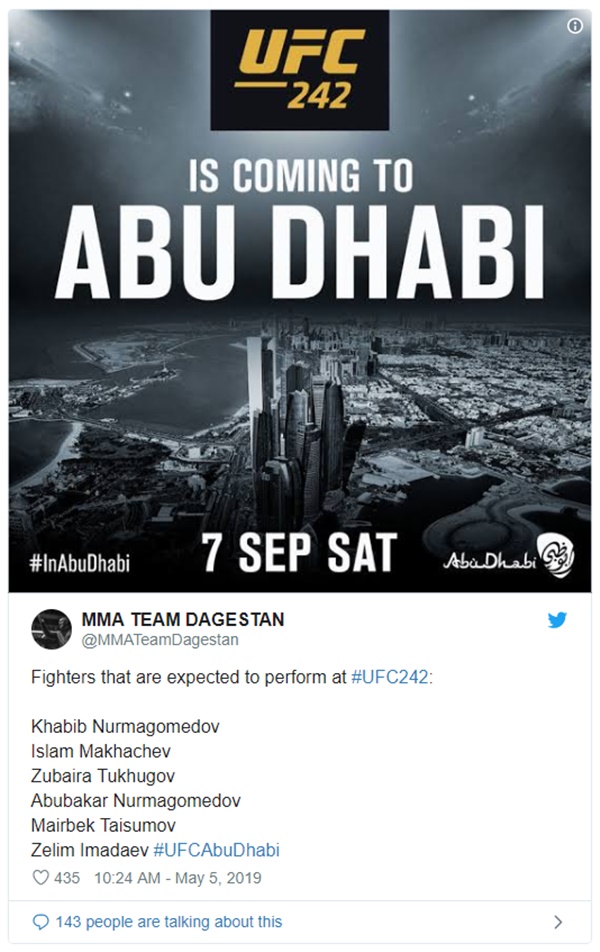 CelebNSports247.com reports that now social media beef between UFC stars Conor McGregor and Khabib Nurmagomedov, continues to take speed, but today, McGregor SLAMMED the brakes and deleted the tweet.
So why did Conor McGregor deletes Khabib Training Tweet?
Over the past months, McGregor and Nurmagomedov have exchanged quite a bit of trash talk on Twitter — some of which was widely considered over the top, crossing racial, religious and familial lines.
Conor McGregor pointed out that several fighters on that list including Khabib Nurmagomedov have tested positive for performance-enhancing drugs in the past.
Now the Irishman took aim at Dagestani fighters in a since-deleted tweet.
The September event (above) in the Middle East, McGregor highlighted some in Nurmagomedov's corner while calling all the fighters "dirty, smelly rats."
Conor McGregor (@TheNotoriousMMA)posted on May 6, 2019:
Team Meldonium.
3 on this list caught on performance enhancers in the past already.
Islam, zubaira and Mairbek."
Dirty smelly rats all of them. https://t.co/izxYVfNAPW
Conor has been doing a lot of tweet/deletes over the past several months.
Meanwhile, McGregor has been lobbying for a rematch with Khabib, though it is expected that this fight may not take place until 2020 at the earliest
But before he fights Nurmagomedov, Conor needs to first line up another fight.
Moreover, UFC President Dana White even vowed to handle the matter internally.
Dana stated:
I'm aware of the recent social media exchange between Khabib Nurmagomedov and Conor McGregor.  The ongoing situation has escalated to a level that is unacceptable. As such, we are taking the necessary steps to reach out to both athlete camps and this situation is being addressed by all parties internally.
Conor has had an interesting past 2 years being arrested and blowing off the handle. Though he wants to fight Khabib Nurmagomedov but he wants to throw down with Floyd Mayweather in the ring.