On Thursday, the Los Angeles Lakers big man DeMarcus Cousins got injured while working out in Las Vegas and went down with a possible knee injury.
After the doc took a look at DeMarcus Cousins it was confirmed that he tore his ACL, ending his season with the Lakers before it ever began. Read on…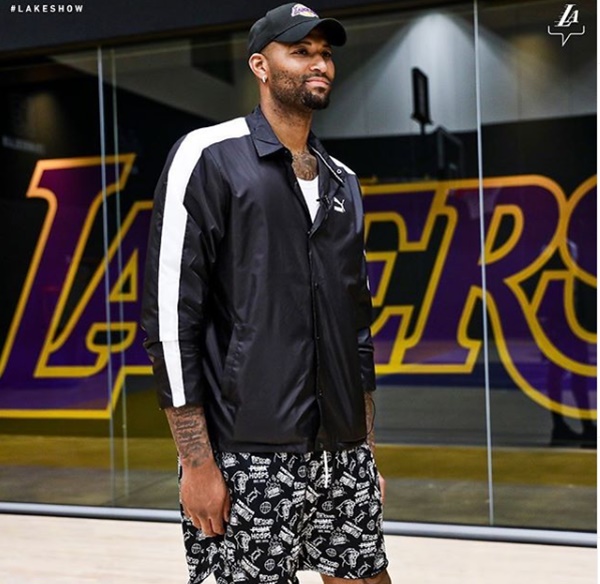 CelebNSports247.com has learned that DeMarcus Cousins aka Boogie has had a recent string of injuries that have hampered his career and now this.
Back during the 2017-'18 season with the New Orleans Pelicans DeMarcus Cousins tore his Achilles tendon, the while with the Warriors he tore his quad.
During his time with the Golden State Warriors missed Cousins almost the entirety of Golden State's Finals run.
Bottom line, DeMarcus Cousins has had a tough run of it over the last 24 months. Cousins signed with the Los Angeles Lakers on another prove-it deal this offseason, and Adrian Wojnarowski reports things have gone south before the season has begun.
Cousins suffered a potential knee injury during a workout in Las Vegas.
ESPN insider Adrian Wojnarowski reports:
Lakers center DeMarcus Cousins has suffered a possible knee injury and will undergo further testing today in Los Angeles, league sources tell ESPN. Cousins was working out in Las Vegas on Monday when he had to leave the court, sources said. He signed a one-year deal in July.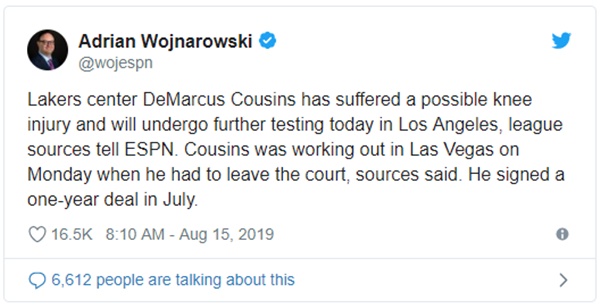 Then after all the reports, Shams Charania confirmed that Cousins had suffered a torn ACL. Which more than likely means he will be out for the 2019/2020 season.
Shams Tweeted:
Los Angeles Lakers center DeMarcus Cousins has suffered a torn ACL in his knee, league sources tell @TheAthleticNBA @Stadium.

Thoughts?