Dwyane Wade SLAMS TROLLS Cyber-Bullying His Son!
On Thanksgiving Day, Dwyane Wade's wife, Gabrielle Union, took to social media and posted a nice family photo that had people talking. Read on and see how Dwyane Wade SLAMS trolls cyber-bullying his son Zion…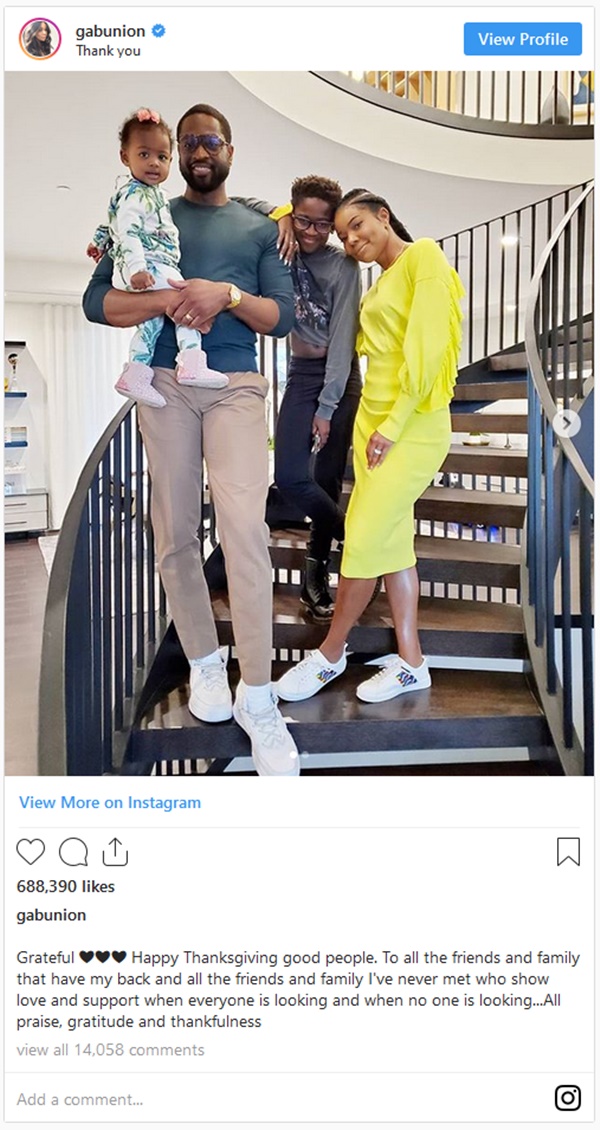 CelebNSports247.com reports Gabrielle Union posted an adorable photo of her family on Instagram which shows them all happily standing on their staircase in their home.
The photo is pure love, but of course, Internet trolls only noticed one thing, and that was Miami Heat star Dwayne Wade's 12-year-old son, Zion's, who is NOT wearing a crop top and fake nails.
Get your FACT right FIRST Trolls!
We can't believe how people try to make something out of NOTHING. That is Gabrielle's hand NOT Zions with the nails. And his shirt is lifted because he has his arm around his dad. #DUH!
People NEED to remember one thing, kids are OFF LIMITS, if they are NOT your children then don't make fun of them. That is considered cyber-bullying!
All Gabrielle Union wanted to do was wish everyone a wonderful Thanksgiving writing:
Grateful ??? Happy Thanksgiving good people. To all the friends and family that have my back and all the friends and family I've never met who show love and support when everyone is looking and when no one is looking…All praise, gratitude and thankfulness.
Instead, she and Miami Heat star Dwayne Wade was hit with a bunch on insensitive remarks about their son. So uncalled for.
As a parent my only goal is that my kids feel that i see them , love them and support them. https://t.co/ZrJp9WFdbi

— DWade (@DwyaneWade) November 30, 2019
I've seen some post-thanksgiving hate on social about my family photo. Stupidity is apart of this world we live in—so i get it. But here's the thing—I've been chosen to lead my family not y'all. So we will continue to be us and support each other with pride, love & a smile! ??

— DWade (@DwyaneWade) November 30, 2019
Do people forget that gender-fluid and transgender is something every parent faces with their children? If you are a great parent all you can do is accept your kids and love them just the same.
Looks like love to me ????? I truly hope that everyone gets the love, support and hugs they deserve. Also Kaav ain't with the dumb shit. Peace & Blessings good people. https://t.co/faFyusNktj

— Gabrielle Union (@itsgabrielleu) October 15, 2019