On Thursday, former NFL tight end, Kellen Winslow Jr. was arrested for burglary at a mobile home park, according to The San Diego Union-Tribune. #SMH
CelebNSports247.com has the latest tea spilling on Kellen Winslow Jr arrest…
Here is what we just learned via the San Diego Union-Tribune who reports on the 34-year-old Kellen Winslow Jr, who had been trying to make a comeback in the NFL for the past couple years seems to have hit hard time to dip so low.
The husband, father, and 10-years as an NFL TE, Kellen Winslow Jr was arrested Thursday afternoon for his alleged connection to a burglary at a mobile home park in California.
The local paper reports:
A resident had called deputies around 2:40 p.m. after seeing a man he didn't recognize walk into a neighbor's residence. He went to confront the intruder and the man left, driving away in a black SUV, Stubkjaer said.
Sheriff's deputies checking the area located a vehicle matching the description of the SUV on El Camino Real. Stubkjaer said Winslow was "positively identified" as the person who had been in the residence and was arrested and booked into Vista jail.
He was held on $50K bail on one count of first-degree burglary.
Winslow was drafted by the Cleveland Browns with the sixth pick in the 2004 NFL Draft, and last played in the NFL in 2013 as a member of the New York Jets, catching 31 passes for 388 yards and two touchdowns.
Apparently, the struggle is real because Kellan's tattoo seems to be reflecting his life right now. Upside down: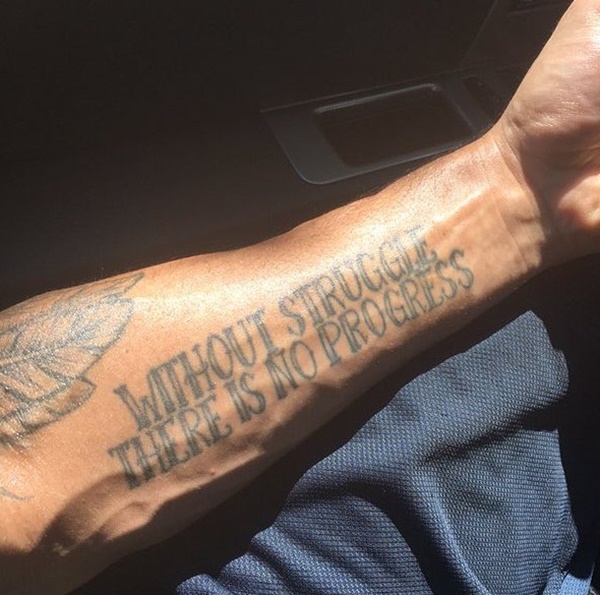 We don't think this was the type of struggle he needs. His tat reads "without struggle there is no progress."
What kind of progress has Kellan accomplished by getting arrested? Is more of a downward spiral, but that's us.
#SAD #SMH