Lamar Jackson Knew About Marquise Brown's Trade
According to reports Marquise Brown's trade to the Arizona Cardinals was one of the most shocking moments in a 2022 NFL draft full of them on Thursday. It just shouldn't have been shocking to Lamar Jackson, apparently…

CelebnSports247.com reports that Baltimore Ravens surprised many by trading away Brown and a third-round pick for the No. 23 overall pick, which was later turned into the No. 25 pick (Iowa center Tyler Linderbaum) and a fourth-round pick.
Now news is surfacing that the Baltimore Ravens quarterback Lamar Jackson, who they are currently trying to sign to a contract extension, made it look like he was blindsided by the news with his first public response.
Marquise Brown is known to be Jackson's best friend on the team, so him to act like it took him by surprise was different.
He retweeted the following message:
WHAT THE F***ING F*** BRO! WE TRADED AWAY HOLLYWOOD
— Lamar Jackson (@Lj_era8) April 29, 2022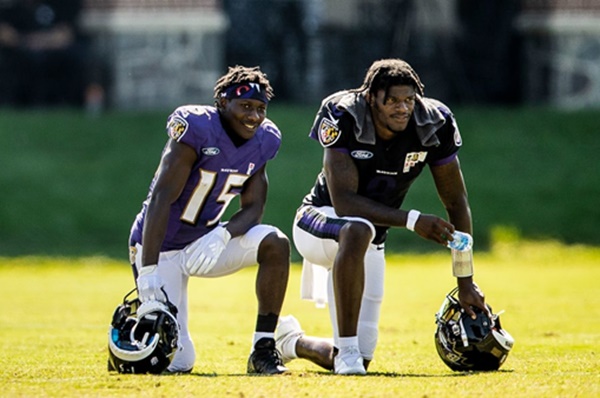 Jackson followed that up with a quote tweet of Brown and a "Wtf" sent immediately after the Linderbaum pick, though Jackson would later insist it was not in response to the pick.
Wtf

— Lamar Jackson (@Lj_era8) April 29, 2022
Ravens GM: Lamar Jackson knew Marquise Brown's requested trade was coming!
Eric DeCosta told reporters at a news conference following the draft that he and Ravens head coach John Harbaugh spoke with Jackson before the trade:
John and I did speak with Lamar. We always do. Lamar is one of the great leaders on our team, also in the community, as a teammate, in the building. We do try to communicate with him as best as possible. We had communication with him actually before the trade was made, to be honest, and explained the situation as best as we could. It was challenging for everybody.
In actuality, it was Brown who initiated the trade, as DeCosta said the wide receiver requested the trade after the Ravens' disappointing and injury-ravaged 2021 season:
Marquise came to me after the season and requested he be traded. He was not happy and wanted to play elsewhere. It was something I anguished over for a long time. He would tell you that he and I had many conversations throughout the spring. I always say the club has to win and this was a situation where it was going to be impossible for the club to truly win. But we want to do what we think is best for the player, we try to accommodate players as best we can. I'm sensitive to that, and so we did it.