Toronto Blue Jays Free agent slugger Jose Bautista time is up with his MLB team and now word is that he may be heading to the Minnesota Twins!?!
Get the latest on Jose Bautista possibly sign with The Minnesota Twins…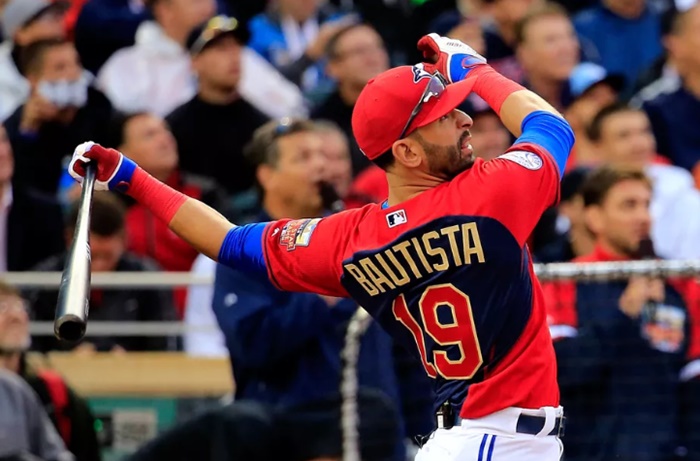 CelebNSports247.com has learned via CBSSports that those last remaining upmarket free agents like, Jose Bautista hopefully find homes for the 2017 season.
Jose Bautista name recently surfaced in association with the Philadelphia Phillies and now a second team is eying the veterna MLB outfielder.
According to Rhett Bollinger of MLB.com, Jose Bautista may be relocating to Minnesota. Here is how Bollinger put it:
"Coming off a 103-loss season, Derek Falvey and Thad Levine have spent much of the offseason evaluating the franchise and building out the baseball operations department. But the Twins have also met with several agents for position players throughout the winter, including the representative for outfielder Jose Bautista."
In addition, Bollinger notes that the level of interest on either side is unclear. Word is, the Twins keep second baseman Brian Dozier and add Bautista.
Nothing is set in stone at this point, so everything is still in the hearsay stage until otherwise noted. On top of that, the Twins' are thinking about resembling that of the Phillies. Moreover, it only makes sense to check in, given the potential that Bautista's price continues to drop.

If the Twins (or Phillies) find Bautista's price to their liking, they could sign him with an eye on trading him at the deadline. Bautista has one thing against him, and that is age. The 36-year-old Dominican athlete is a great MLB player, but when put against draft picks he's expendable for teams. Which raises this theory. Don't blame the Twins, Phillies, or another team if they take advantage of the situation in pursuit of positive arbitrage.
Photo: Rob Carr/Getty Images