CelebNSports247.com just got word via Savage Boston Sports that Gronk twerking skill will surely get women in Boston pregnant.
Continue on to watch how Rob Gronk Gronkowski got down at one of the The New England AFC pressor leading up to Super Bowl LIII in Atlanta…
And in a shocking turn of events, all of the women in New England just got pregnant.

— Savage Boston Sports ??? (@SavageBoston) January 29, 2019
According to Savage Boston Sports, Rob Gronkowski aka Gronk has some pretty strong hip action that is getting women in New England pregnant.
They tweeted:
And in a shocking turn of events, all of the women in New England just got pregnant.
What is funny is that Gronk's girlfriend, Camille Kostek responded to the Tweet saying that she is NOT pregnant yet, but she and Gronk will continue to try and make it official.
TO posted Camille's response tweet:
Not pregnant, but we can keep practicing.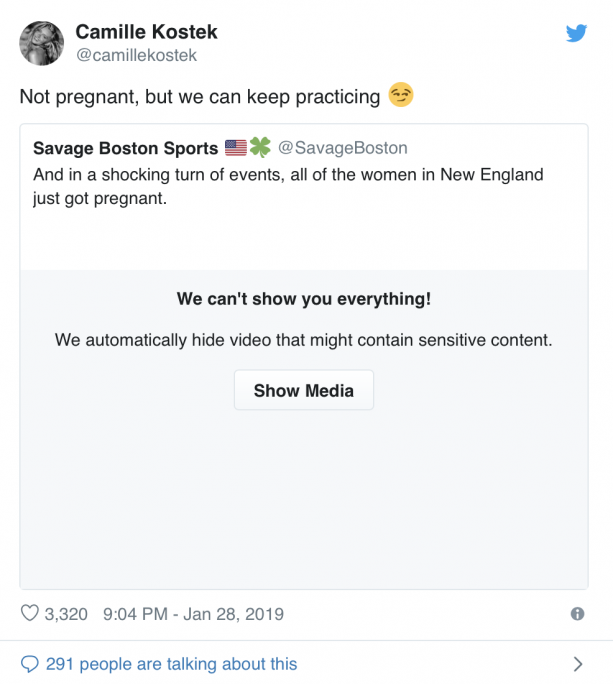 We hope that Gronk and Camille can make some babies in 2019 since his twerking has some extra thrust.
If you have been hearing rumors that New England Patriots tight end Rob Gronkowski was retiring, think again.
Gronk isn't ready to talk retirement just yet, but he did offer a timetable regarding a decision on his playing future.
Gronkowski responded to ESPN's question:
As of right now, those are the last things I'm thinking of. … I love playing the game. After a long season, after the [Super Bowl], a few weeks down the road, you sit back, you relax, you get some downtime, enjoyment time. And you just see where you want to go with it.
When asked about playing beyond the 2019 season, he replied:
That's a tricky question. You're trying to get around me. You're just trying to get you some answers over there, baby. But, like I said, I don't know. I haven't done that sit-down yet. I've got to do that sit-down. About two weeks after [the season]. Then I'll know.
As for his health and injuries he has sustained from the NFL Rob, 29, had this to say:
How many more years my body could take? In my opinion? That's a good question. Many.
We will see if Rob Gronkowski retire is in the near future, but for now, enjoy how he twerks.