Ryan Fitzpatrick Not Happy Tua Tagovailoa Got His Job!
Fitzpatrick opened up about the Miami Dolphins benching him in favor of rookie Tua Tagovailoa. Read on since Ryan is definitely not happy about the decision…
CelebnSports247.com reports that Miami Dolphins Ryan Fitzpatrick didn't know about the team changing him out and putting in rookie Tua Tagovailoa.
Ryan Fitzpatrick says that he was blindsided.
Now, Fitzpatrick is speaking about the incident being brutally honest about what happened and how he felt about Tua Tagovailoa taking his job.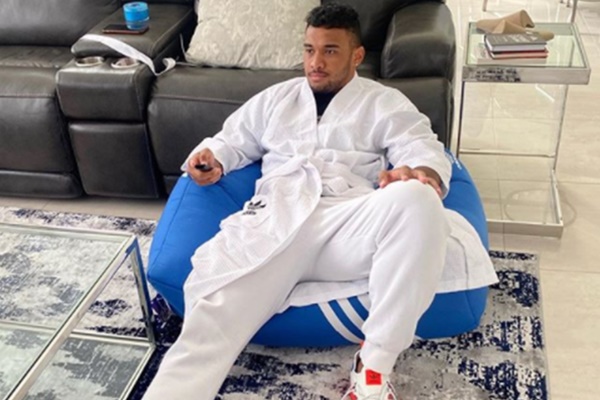 He took to social media to explain in detail:
Ryan Fitzpatrick is going to speak to the media. His reaction to being benched:

"I was shocked by it. It definitely caught me off guard. It was a hard thing for me to hear yesterday, just digesting the news. My heart just hurt all day."

— Armando Salguero (@ArmandoSalguero) October 21, 2020
Fitz: "There's a lot of stuff going through my mind yesterday…Is this it?"

"I've been a starter, I've been benched all kinds of different ways … but this was kind of the first place other than Buffalo that I've been fully committed and invested. I felt it was my team."

— Armando Salguero (@ArmandoSalguero) October 21, 2020
Fitz: "There's a lot of stuff going through my mind yesterday…Is this it?"

"I've been a starter, I've been benched all kinds of different ways … but this was kind of the first place other than Buffalo that I've been fully committed and invested. I felt it was my team."

— Armando Salguero (@ArmandoSalguero) October 21, 2020
Ryan Fitzpatrick says he has "no idea" about next season. Says he doesn't "go in there and ask or demanding anything" speaking of idea of requesting a trade.

— Armando Salguero (@ArmandoSalguero) October 21, 2020
Despite Tua landing his job, Fitzpatrick is having a pretty outstanding season. He has completed 70.1 percent of his passes for 1,535 yards, with 10 touchdowns and seven interceptions. He's averaged 7.8 yards per attempt, has a passer rating of 95.0 and his QBR of 79.6 ranks seventh in the NFL