Terrelle Pryor ALL SMILES Leaving ICU!
This is great news, Terrelle Pryor is out of critical condition and on his way to another part of the hospital. Read on to get more details on Terrelle Pryor leaving the ICU …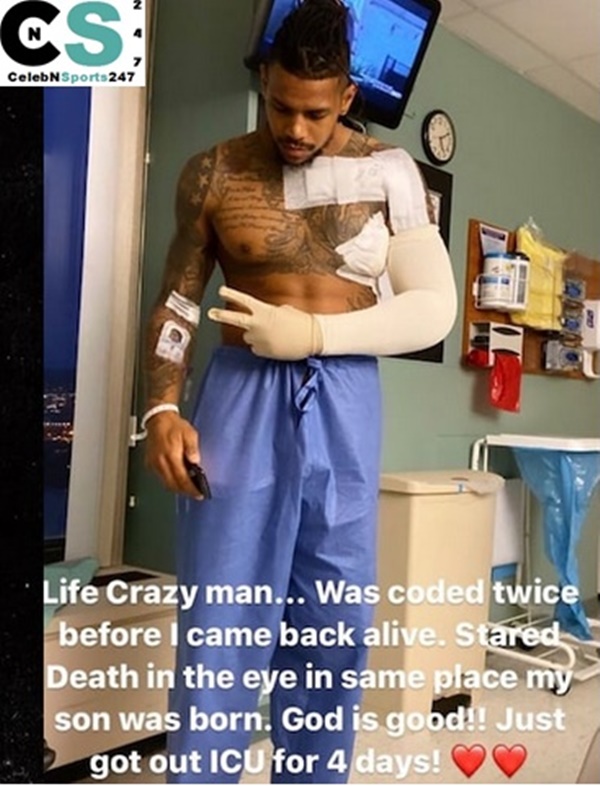 CelebNSports247.com reports that 30-year-old 6? 4? free-agent wide receiver Terrelle Pryor was just wheeled out of the Intensive Care Unit All smiles.
Earlier today (Tuesday) Terrelle Pryor posted a video on his Live showing followers that he was being wheeled out of the Intensive Care Unit.
In the video, you can see that he is still healing from the stab wounds. You can see the bandages covering the wound where he was stabbed in his chest and shoulder.
The NFL player who happily said his goodbye's on his way out of ICU ( watch the video here):
Thanks for all the support… I'mma be aite.
Pryor notes that he "had to be coded twice" — which is usually hospital slang for an emergency effort to resuscitate someone having a life-threatening medical episode.
We previously reported that a woman by the name of Shalaya Briston stabbed Terrelle Pryor in the chest and shoulder over the weekend. Shalaya Briston was arrested and has been charged with Criminal Attempt Homicide and Aggravated Assault.
Officials told the site Briston was being held at the Allegheny County Jail and her bail was denied. She has a hearing scheduled for later this month.
In addition to Shalaya stabbing Terrelle, he was arrested as well, but he ended up getting charged with Simple Assault.
Thoughts?