The Kansas City Chiefs insist they are "deeply disturbed" by what they heard on a leaked audio recording of Tyreek Hill and his fiancee, Crystal Espinal.
But we just got word that Tyreek Hill reportedly may be placed on Commissioner's Exempt List. Read on…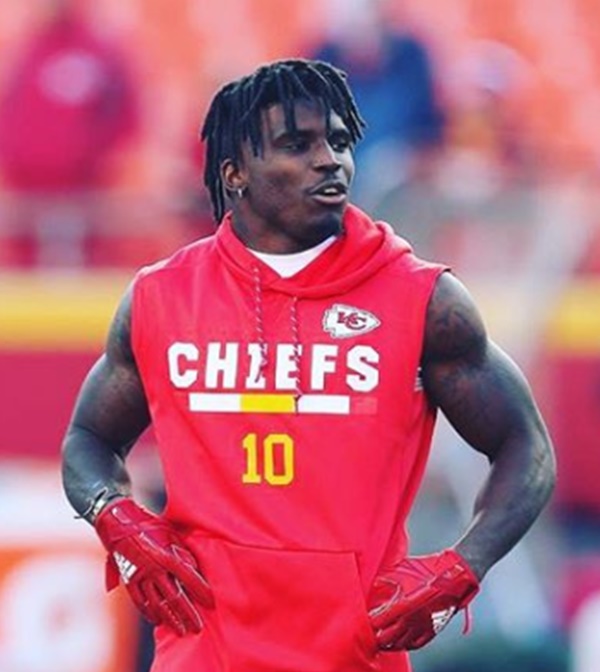 CelebNSports247.com has learned that the NFL may soon take action on Tyreek Hill, though, ESPN.com's Dan Graziano, says the league is considering placing Hill on the Commissioner's Exempt List as soon as this week.
ESPN.com's Dan Graziano, says:
The NFL and the players' union have reviewed the audiotape that a TV station aired last week on which Kansas City Chiefs wide receiver Tyreek Hill and his fiancée discuss injuries to their child, a source told ESPN's Dan Graziano.

The league has historically declined to use the commissioner's exempt list in the offseason but is considering making an exception in this case, likely as early as this week, because Hill is in the middle of an ongoing criminal investigation.
Last week the results of the investigation were revealed.
Then, the criminal case against Hill and Espinal was re-opened over the weekend after the recording was leaked to a local TV station.
We previously reported on the audio tape proving that Hill is the one who broke his 3-year-old-sons arm.
Hill's fate is in the hands of the NFL, but it appears they will be protecting an abusive man once again. SMH.
It proves the NFL only cares about money and how good of a player he is.