Rob Gronkowski Dances With The Lakers Girls!
Ok, this is interesting and hilarious at the same time. Retired NFL tight end was shaking his tight end during the Lakers halftime. Continue on to watch Gronk show off his dancing skills…
@RobGronkowski … Yes, Gronk! Putting on a show at halftime. #Lakers #Patriots pic.twitter.com/GF9IdI2pJI

— Ryan Ward (@RyanWardLA) November 20, 2019
CelebNSports247.com has the latest from retired New England Patriots Rob Gronkowski who was spotted dancing with the Lakers girls.
Fresh off his big announcement of hosting a Super Bowl party in February (seen below), the retired former New England Patriots took his dancing skills or lack thereof.
This is where we say, "hey Gronk, don't quit you day job," which is nothing these days.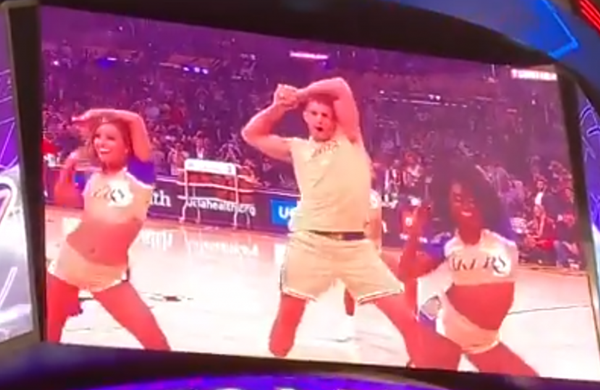 The bottom line, Gronk was having a good time with the Lakers girls during the Los Angeles Lakers halftime.
Continue on to see how Rob Gronkowski has literally gone viral shaking his tight end with the Lakers girls.
I think Gronk is enjoying the retirement life. #Lakers #Patriots pic.twitter.com/Eev4ZYnz58

— gary washburn (@GwashburnGlobe) November 20, 2019
We think the twerking may have been a little better, but overall Rob can't dance.
This was his big announcement:
Introducing Gronk Beach…I am going for the championship of partying in Miami with my very own music festival during Big Game Weekend: located right on the sand of Miami Beach with all my favorite artists: @DIPLO | @KASKADE | @richforever | @official_flo | @CARNAGE | @3LAU, an open bar, and amazing food! See you in Miami on Saturday, Feb 1st @GronkBeach! Tickets on sale on Thursday at 11 AM EST. Register now at www.GronkBeach.com
What do you think of Rob Gronkowksi dancing with the Laker Girls?