Dak Prescott Massive 5-Year Deal With Cowboys Confirmed!
Yes, the tea spill can now be confirmed that the massive rumored 5-year deal that Dak Prescott received from the team was indeed real and happened. Read on about Dak Prescott Massive 5-Year Deal…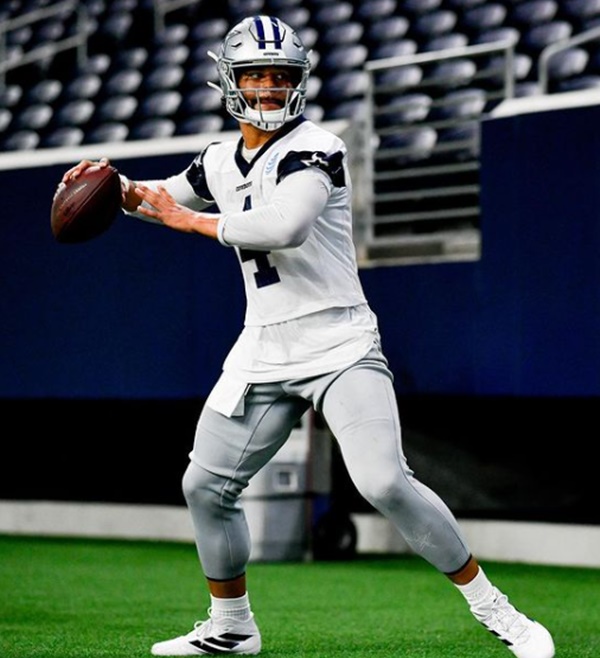 CelebnSports247.com reports that Tad Prescott took to Twitter on Tuesday and confirmed that his brother received the long-term deal.
Here is what Tad posted about his brother Dak Prescott:
Heard @DanGrazianoESPN say on @GetUpESPN that @dak could have taken a Goff or Wentz like contract last year., Those 2 both were offered 4yr extensions, @dak was being offered 5.
#CelebnSports247 #DakPrescott #news https://t.co/aZDlmtGpOq

— CelebNSports247 (@CNS24_7) February 3, 2021
We previously reported that the Dallas Cowboys need to be unafraid about going all in t keep Dak and apparently the dove in headfirst.
Both sides could not come to terms on a deal last offseason, mainly because the team wanted Dak for five years, while the QB only wanted four years. Prescott wanted fewer years so he could once again test the market when he turns 30-years-old.
Prescott decided to bet on himself and play the 2020 campaign on his fully-guaranteed $31.4 million franchise tag, but things went awry as suffered a right ankle compound fracture and dislocation which requires 4-6 months of rehabilitation.
The team and Prescott now sit in the same position as last year as the sides can either come to an agreement, or the Cowboys can pay him even more on a larger franchise tag. This will be the final season they can tag him before he becomes an unrestricted free agent.