Did Jake Paul Hex Conor McGregor With Sleepy McGregor Pendant!
A day before Conor McGregor's fight against Dustin Poirier, Jake Paul took to social media telling the UFC Champ not to lose or his career is finished.
One day later Conor viciously breaks his leg in the first round. It was a disgusting break that looked extremely painful. And the crazy part is that McGregor ended up on the mat just like Jake Paul's pendant. Immediately after he threatened to kill Dustin and his wife, then the Irish fighter changed up and said he vowed to return to fight.
Was it voodoo or something? McGregor should be pissed off at Paul for JINXING him before going into the fight.  Did Jake Paul Hex Conor McGregor???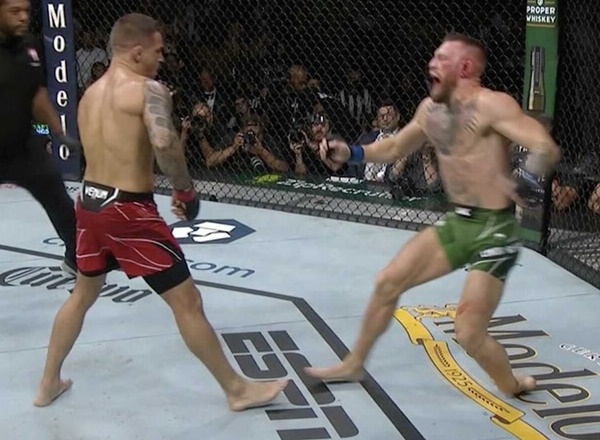 CelebnSports247.com reports what Jake Paul said the day before Conor McGregor went in the Octagon.
YouTuber turned boxing superstar in Los Angeles is currently gearing up for his next battle against ex-UFC champ Tyron Woodley on August 29th.
However, Jake Paul had this to say and Paul didn't mince his words on who's got big beef with the Irish superstar.
Jake said:
I think he's an evil man, and he had what was coming for him.
So he had a $100k Sleepy McGregor pendant and if he wins will be sending the 6 figure bling to Poirier.
I think he deserves it. I think it's hilarious. I hope he takes a picture with it and posts it on Instagram. I just love to see McGregor plummet. He was a meteoric star that's now just taking a nosedive. Before I wanted to fight him and I offered him $50 million, now my offer is $23.
In fact, Jake says he tried to break the lower leg off the chain … but couldn't do it.
I tried to snap off the ankle on it. After the fight, I took a rock and tried to smash it. It wouldn't break, honestly. The chain is more solid than McGregor.
Wow, that's really cold…check it
View this post on Instagram