Conor McGregor Threatens To KILL Dustin Poirier + His Wife After Injury!
One thing for certain, Conor McGregor is a sore loser and he does NOT like being defeated. Continue on to watch Conor McGregor Threatens Dustin Poirier…
NEW alternate angle of Conor McGregor threatening to kill Dustin and Jolie Poirier "in their sleep" and makes gun sign to his head:

"In your sleep you're getting it, in your sleep you're dead, you and your Mrs, it ain't over" pic.twitter.com/r6nmjZAjQb

— Out Of Context MMA (@oocmma) July 12, 2021
CelebnSports247.com reports on Sunday that UFC Champion fighter Conor McGregor suffered a horrific injury breaking his leg.
Something that McGregor fans are not used to.
Anyways, Conor was just as shocked but mostly pissed the F off after suffering a broken leg during the first round of his UFC 264 main event against Dustin Poirier.
McGregor sat on the mat and threatened to kill both Poirier and his wife as Joe Rogan was attempting to conduct his post-fight interview with the victor.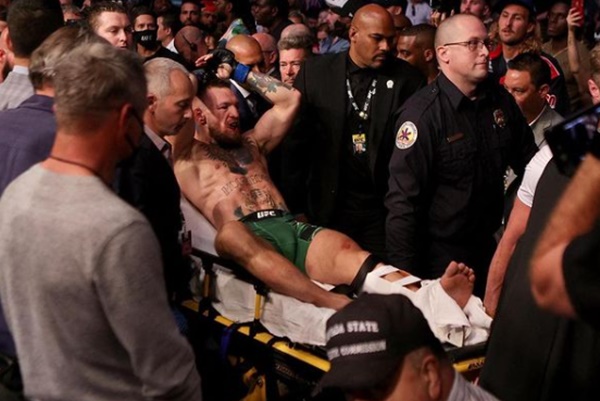 It was all caught in a Tweet in newly released footage from cageside, McGregor can be heard yelling at Poirier:
In your sleep you're getting it, in your sleep you're dead. You and your Mrs, it ain't over.
There was a ton of bad blood leading up to this fight, highlighted by some of McGregor's comments towards Poirier regarding his wife, Jolie, during the pre-fight press conference.
Images of Jolie Poirier giving McGregor the middle finger in the octagon after the fight have also been making their way around the internet.