Montana Yao CHECKS Larsa Pippen Who GLADLY Dumped Malik Beasley!
On Sunday, Malik Beasley decided it was time he apologizes to his ex-wife Montana Yao and their son for publically humiliating them and throwing them out of the house. Yao responded to Malik.
Malik Beasley apparently thought the grass was greener dating Larsa Pippen who has three children (Scotty Jr., 20, Preston, 19, Justin, 16, and Sophia, 13) by Scottie Pippen. Larsa and Scottie split in 2018 and she has been looking for her next E-ticket. Read on since Montana Yao CHECKS Larsa Pippen…
Larsa set her eyes on Malik Beasley with no concern that he was married with a child. The homewrecker decided to have paps snap photos of she and Malik to stir up some headlines, reports CelebnSports247.com
In return, she heated up Malik's wife Montana Yao, who has now responded to Malik's apology, saying its in the right direction, but went on to say Larsa "needs to check herself."
A source told Radar on Sunday, May 23:
Larsa doesn't care to comment and is glad she dodged a bullet.
Her response came after Beasley's post
She posted on IG her real thoughts on him. She's happy and focused on her jewelry brand Larsa Marie.
Well, Montana Yao had something more to say to the homewrecker divorce':
Larsa Pippen your treats are good over here ma'am tey somewhere else. You really need to be put on check or something cause you really wildin out here thinking you bout to tell either Malik or I how to act.
She added:
Now you got me hot and I'm not holding back no more. I been told you to shut your trap because you embarrassed yourself enough already.
Read the whole thing because Montana ain't playing.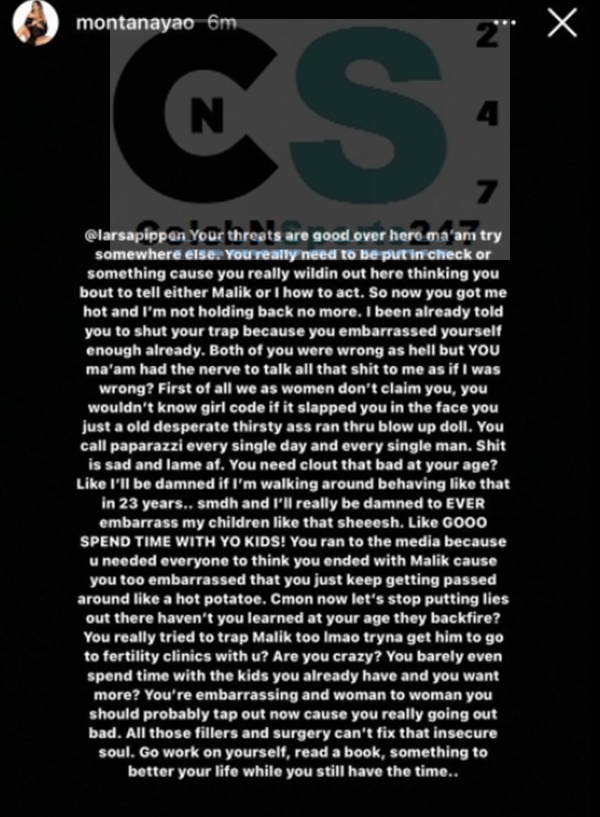 In April, Malik received the results of his paternity test, which revealed that he is a 99.9 percent DNA match with Makai.