If said nothing, then why did Mason state he attacked Myles Garrett first unless he did say something and he just wanted to publically say he didn't so it can work in his favor. If you watch the reply you can see Mason Rudolph yelling at Myles Garrett because he didn't like how he was tackled.
Fast forward to Myles Garrett appeal hearing with the NFL on Wednesday, Cleveland Browns defensive end alleged that Mason Rudolph directed a racial slur at him just prior to last week's brawl on "Thursday Night Football." Read on for more on Myles Garrett appeal claiming Mason Rudolph used a racial slur…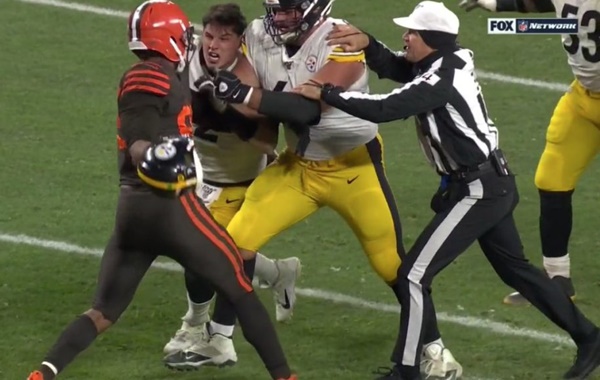 CelebNSports247.com has the latest from Cleveland Browns defensive end Myles Garrett appeal hearing with the NFL on Wednesday.
What is crazy about all of this is that why is it that the black man who apologized for his actions is suspended and then has to prove he was defending himself?
According to Myles Garrett, the Pittsburg Steelers QB Mason Rudolph said a racial slur towards him, but the quarterback strongly denies any truth of it.
Steelers spokesman Burt Lauten said in a statement:
Mason vehemently denies the report of being accused of using a racial slur during the incident Thursday night in Cleveland. He will not discuss this accusation any further and his focus remains on preparation for Sunday's game against the Cincinnati Bengals.
On Wednesday, Rudolph told reporters he didn't say anything to provoke Garrett or escalate the situation.
Right there alone, we question Mason since he is seen yelling at Garrett before he was hit by his helmet.
Rudolph's attorney, Timothy M. Younger has now chimed in saying:
According to ESPN, in his appeal, Myles Garrett falsely asserted that Mason Rudolph uttered a racial slur toward him, prior to swinging a helmet at Mason's uncovered head, in a desperate attempt to mitigate his suspension. This is a lie. This false allegation was never asserted by Garrett in the aftermath of the game, never suggested prior to the hearing, and conspicuously absent in the apology published by the Browns and adopted by Garrett.
Younger continued:
The malicious use of this wild and unfounded allegation is an assault on Mason's integrity which is far worse than the physical assault witnessed on Thursday. This is reckless and shameful. We will have no further comment.
Why Garrett used the Allegations as part of his initial comments?
ESPN reports:
Garrett made the allegation as part of his initial comments during the appeal hearing in New York, sources said. It created an argumentative exchange about whether the allegation was permissible to be used in the appeal at that time.

When asked how he would handle a situation like this in the future, Garrett said he would not let events escalate like that again.

What is unfortunate is that Garrett's indefinite suspension was upheld on Thursday, the NFL announced.

Garrett was suspended for ripping off and swinging Rudolph's helmet, hitting the quarterback in the head with it, with seconds remaining in last Thursday's game. In announcing Garrett's suspension Friday, the NFL also said that Garrett would have to meet with the commissioner's office before being reinstated.

Rudolph initially tussled with Garrett on the ground and then charged at him after Garrett forcibly removed the helmet. Rudolph hasn't been punished, but a source told ESPN that a fine is expected. The quarterback said he would comply with whatever the league hands out.
Browns coach Freddie Kitchens on Thursday declined to address his discussions with Garrett.
He said:
What Myles and I talk about stays between Myles and I.  I'm sure Myles presented himself professionally, like he's done ever since the moment it happened [and] afterward. He's been nothing but professional in his responses.
We lean more toward Garrett on this. We are NOT believing Mason Rudolph except for his admission in starting the fight. As for, Myles attacking him, something was said to make him go full throttle and we feel Mason won't admit it because he knows he'd be suspended and fined. Bottom line white owners are helping the white QB.