Houston Rockets guard Russell Westbrook starts initiative aimed at helping at-risk youth acquire job skills.
NBA superstar Russell Westbrook is known on the basketball courts for his lightning fast quickness and the ability to score at will. Off the court, he receives a lot of attention for his eccentric fashion choices but he's also getting some attention for doing some good in the hood.
The 2016-17 NBA MVP used some of his time during the off-season to launch the Westbrook/Brownstein Green Tech Program, whose goal is to get at-risk, inner city youth off the streets and into the classroom learning skills that could potentially change their lives.
Westbrook teamed up with philanthropist Chad Brownstein and The LA Conservation Corps, an environmentally focused youth development organization. The goal is to train students in advanced careers as coding, computer literacy and computer engineering.
The recently traded guard said:
I feel like this particular program actually impacts the kids' futures, impacts their mind, the mentality of where they grew up, where they're from. I definitely can relate to that because I feel like I was one of those kids growing up in the city of Los Angeles and finding my way, figuring out what was the best path for me.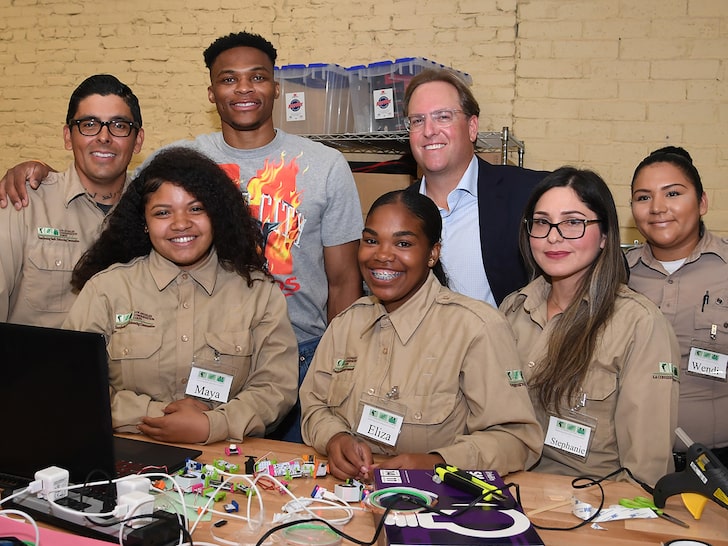 Touring a facility to watch teens hard at work, Westbrook was able to see the impact of the new program first-hand.
Yesterday Westbrook and Brownstein visited The Corps' John Van de Camp Center to observe the teens working and learning in the facility. During his visit the Houston Rockets player was schooled as well. He was given some quick lessons in robotics, 3-D printing, and drone piloting should he ever decide to hang up his jersey and switch careers.
Westbrook says:
I grew up like the kids that I see here today.  That is what resonates with me, these people that I can communicate with just because I know what it's like to grow up in the inner city without certain things, without the resources, without having books, without having the right things to be successful, without having the tools to be able to do that.
He continued:
I just want to be able to impact and inspire as many people as possible. I can relate to them because I was one of them, and it's important that they know that and understand that I am here to help give them the resources for them to be able to be successful in this world."
What do you think about Russell Westbrook starts initiative for at-risk youth?