The reigning World Series Champion Boston Red Sox will celebrate their 2018 title at the White House, but they will be doing so without their manager Alex Cora.
Alex Cora has good reason NOT to visit the White House, because Donald Trump, the man who turned his back on Puerto Rico after the devastating hurricane in 2017 because he made it clear that he doesn't like Latino people. Read on to see why Red Sox manager Alex Cora Won't visit The White House…

CelebNSports247.com reports first and foremost, the Boston Red Sox manager Alex Cora is a proud Puerto Rican man, and that is the main reason he is refusing to visit the White House.
Why Red Sox Manager Alex Cora Won't Visit The White House!
President 45 is the only president who has more rejection from the NBA, NFL, MLB and other athletes who refuse to visit the White House.
Trump's controversial presidency has kept many athletes and sports figures far far away. Not to mention the disrespectful fast food meal that he recently served the Baylor Bears Women's Team.
Donald Trump has continued to show that he is racist with his actions, of course, he denies it, but that is why ignorance is bliss.
As for, Alex Cora, he "he does not feel comfortable" attending the function because of President Trump's unwillingness and inaction toward Puerto Rican hurricane relief and aid.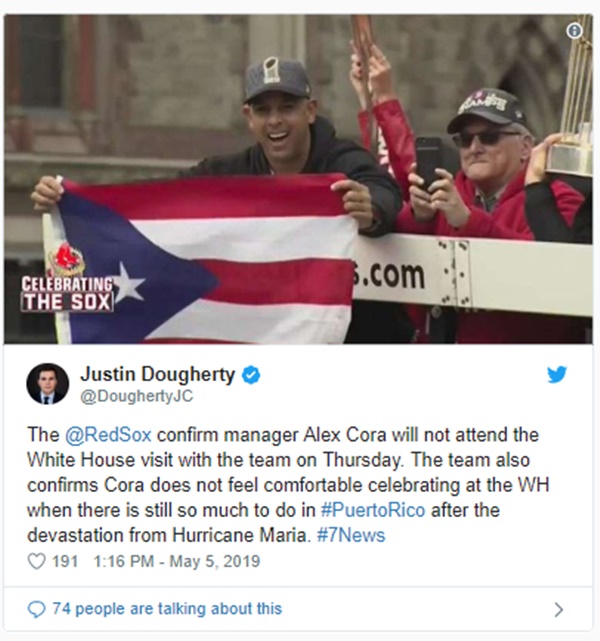 Cora states to El Nuevo Dia:
His decision, as detailed, is based on his understanding that Puerto Rico has not yet recovered after the passage of Hurricane Maria in September 2017.
He adds:
Puerto Rico is very important to me. During the winter I spent a lot of time at home visiting family and friends.  Unfortunately, we are still struggling. Some are absent from basic needs, others without electricity, and many houses and schools are still in poor condition, a year and a half after Hurricane Maria.
We support Alex Cora.