Tua Tagovailoa Long-Term Durability Uncertain; Dolphins Concerned!
According to new reports Tua Tagovailoa heading to the Miami Dolphins not a slam dunk anymore. Read on to see what they are saying about Tua Tagovailoa Long-Term Durability…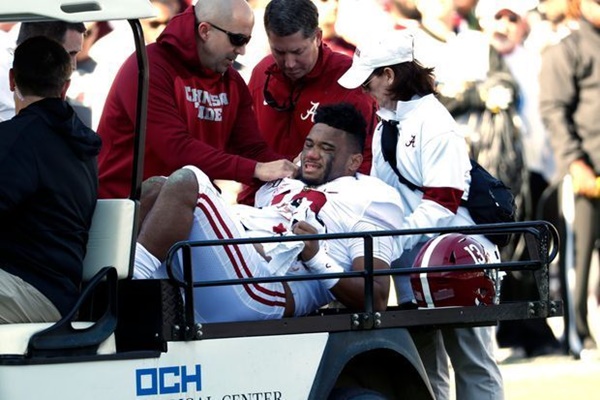 CelebNSports247.com reports that the Dolphins will be drafting a quarterback in the first-round of the upcoming NFL Draft.
It has been assumed that they will take Alabama's Tua Tagovailoa, but now that may NOT be the case.
Concerns over Tua's long-term durability have reportedly caused Miami to look at other possibilities. One name that has popped up is Justin Herbert.
Now we are hearing that Teams will strategically leak "news" of all kinds, whether it's to trash a prospect they secretly like (not cool, but it happens) or give hints about their plans that may or may not be true.

That leads us to the Miami Dolphins and what seemed to be a foregone conclusion for the fifth pick.

The Dolphins have been linked to Alabama quarterback Tua Tagovailoa for most of the past year. But a Miami Herald column, a week before the NFL scouting combine, said the team might be cooler on him than widely assumed, reports YahooSports.
The Miami Herald reports:
Tagovailoa to the Dolphins is not a certainty. And don't dismiss Herbert to Miami.

One source said the Dolphins are not just concerned about Tagovailoa's return to full health from the fractured and dislocated hip he suffered last November, but also about his durability in the long-term beyond the current injury.

Tagovailoa suffered multiple ankle and other injuries during his time as the Crimson Tide's starter and while he has remarkable accuracy and displays other valuable gifts, including leadership, his relative smallish size (approximately 6-foot and 225-230 pounds) and only modest mobility has raised the question about his ability to remain injury free in the NFL.
In January, he wrote this to his college team:
View this post on Instagram